RUIDO HORRIBLE UPDATE 11 29 09
Proud to present this 2 new releases. Also,
REDUCED PRICES FOR MOST BACK-CATALOG ITEMS
for a limited time (Scroll down for a full list).
All prices are in US Dollars and without postage included. For international postage rates pm'me or calculate by yourself by adding:
In the USA and Central America:$3.00 for the first item and $6.00 for 2-5 items.
Everywhere else: $4.00 for one item. $7.00 for 2-5 items.
Distros/larger orders/trades send pm.
REGISTERED POSTAGE INCLUDED IN ALL ORDERS
Send funds via paypal to ruidohorrible at yahoo dot com
------------------------------------------------------------------------------------------------------------------------------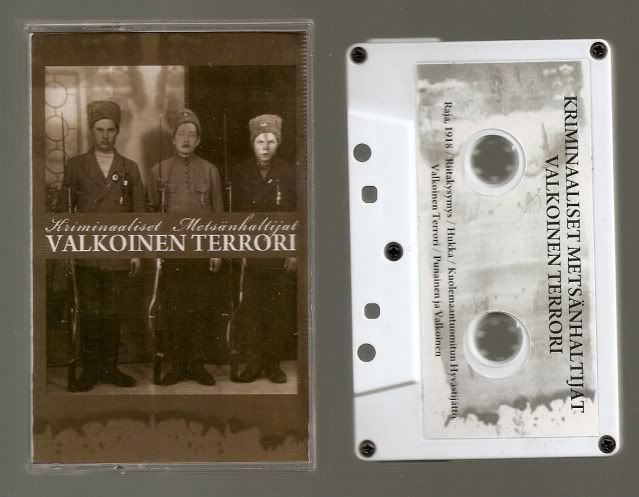 RH046 KRIMINAALISET METSÄNHALTIJAT – VALKOINEN TERRORI (one-sided C60) $6.50
In "Valkoinen Terrori," Kriminaaliset Metsänhaltijat offer their own cinematic sound interpretation of the Great White Terror, en event during which the Finnish, caught between opposing political ideologies, fought a bloody battle that cost them thousands of casualties. Using samples of music and movies referent to this era, Kriminaaliset Metsänhaltijat sonically recreate a time of sheer horror and death. Containing unreleased recordings dating back to 1999, "Valkoinen Terrori" is 30 min of pure old school noise. Limited to 40.
sound samples:
Riitakysymys
Punainen Ja Valkoinen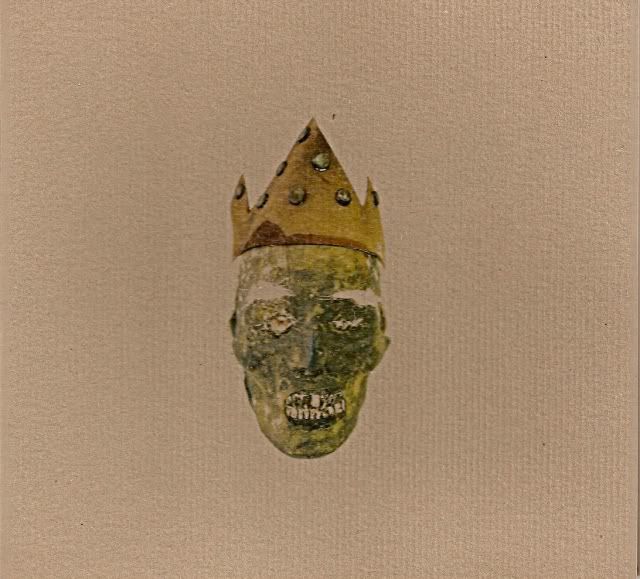 RH036 RUBBISH (with TERRENCE FULLER) – THE KING OF TOMORROW CDR $7.50
Crazy and malevolent collaborative recording by Pat Rubbish and Terrence Fuller. 10 full tracks of demented/hypnotic noise basts. Full color artwork. Comes in rh style digipak. Limited to 45.
sound samples:
Hardened Hearts, Blackened Souls
Three Awful Toads
COMING SOON, NEW RELEASES BY:
CONTENT NULLITY, RUSALKA, 1,000 PILOTS, TICA, AEA, GRANITKORRIDOR, CHRISTIAN GALARRETA/FIORELLA 16, IVAN CARREÑO, JOSH & THE 7/14 MOON
and many more!!!
STILL AVAILABLE:
RH015 Le Scrambled Debutante - Symmetric Stupidity C60 $5.00
RH018 Winters In Osaka - No Compromise! CDR LAST COPIES $5.00
RH021 The New Parallelogrammers - Series of Snakes CDR $5.00
RH023 Slow Listener - I Like the Idea of People, I Just Don't Like People CDR $6.50
RH024 Fossils – Holocene Maximum C30 $5.00
RH030 Soriah - Marakame pro-cdr, 110 copies $8.00
RH032 Cold Turkey - Retribution C20 $6.00
LAST 2 COPIES
RH035 Wasteland Jazz Unit - Burrows of Indication CDR $7.00
RH035 Christopher Riggs – Happy Holidays C30 $5.00
RH043 D.A.F.O.S.M. – Viaje Arcaico (Armenia) CDR $6.50