Tengo unos cuantos nuevos releases en ruido horrible. De ahora en adelante intentaré postear la información aquí. Disculpen que esté en inglés, hay cosas que son difíciles de evitar...



RUIDO HORRIBLE UPDATE 07 10 09
All prices are in US Dollars and without postage included. For international postage rates pm'me or calculate it by yourself by adding:
In the USA and Central America - $3.00 for the first item and $1.00 for each additional one
Everywhere else - $4.00 for the first item and $1.50 for each additional one.

SPECIAL OFFER: BUY THE THREE NEW RELEASES FOR $17.00 + POSTAGE (USA/CENTRAL AMERICA $5.00/ANYWHERE ELSE $7.00)
Send funds via paypal to ruidohorrible at yahoo dot com
Distros/large orders/trades send pm. All trades considered.
all the best
-s
-------------------------------------------------------------------------------------------------------------------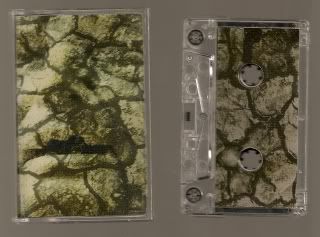 rh024 FOSSILS - HOLOCENE MAXIMUM C30 $6.00
Two sides of intense, destructive jamming by this Canadian group of improvisers. Ranging from chaos to full on hysteria, Fossils once again set out to subvert any notion of musicality. Edition of 64 copies.
HOLOCENE MAXIMUM SAMPLE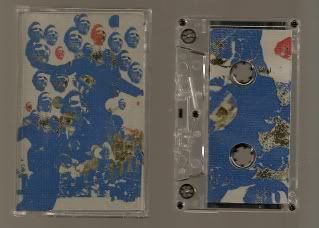 rh035 CHRISTOPHER RIGGS - HAPPY HOLIDAYS C30 $6.00
New release by Christopher Rigggs, Happy Holidays presents inconceivably strange sounds produced through an abusive physical treatment of the guitar and tape processes. Edition of 36 copies.
HAPPY HOLIDAYS SAMPLE 1
HAPPY HOLIDAYS SAMPLE 2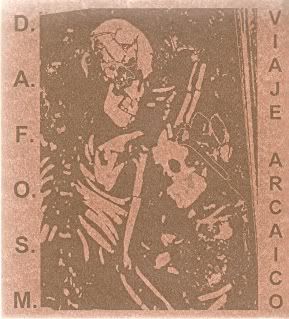 rh043 D.A.F.O.S.M. - VIAJE ARCAICO CDR $8.00
Obscure side project from ARMENIA's veteran noise maker, Leonardo Sabatto, D.A.F.O.S.M. retakes the sordid intensity of his now defunct project. Early recordings from D.A.F.O.S.M. date back to the late nineties and include a collaboration with Black Leather Jesus, some of which can be found for free download at Leonardo's great blog
Experimentos Sonoros Ocultos
. VIAJE ARCAICO is a brutal exploration of harsh noise in its classic vein. There's hardly anything else to say: full lenght relase of brutal, merciless noise by one of its masters. Comes in ruido horrible style digipak. Spraypainted discs. Edition of 50 copies.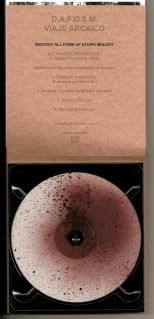 sound samples later today if possible
STILL AVAILABLE:
RH015 Le Scrambled Debutante - Symmetric Stupidity C60 $6.00
RH023 Slow Listener - I Like the Idea of People, I Just Don't Like People CDR $8.00
RH030 Soriah - Marakame cdr, 110 copies $9.00
RH031 Granitkorridor C30 (LAST COPIES!!!) $6.00
RH032 Cold Turkey - Retribution C20 $6.00
RH035 Wasteland Jazz Unit - Burrows of Indication CDR $8.00
NEXT:
RH036 RUBBISH - THE KING OF TOMORROW
RH037 I/C/O/C - BROKEN METACARPUS LIKE STIGMATA
RH040 CONTENT NULLITY
RH044 RUSALKA - MOTHER INSECT FLESH